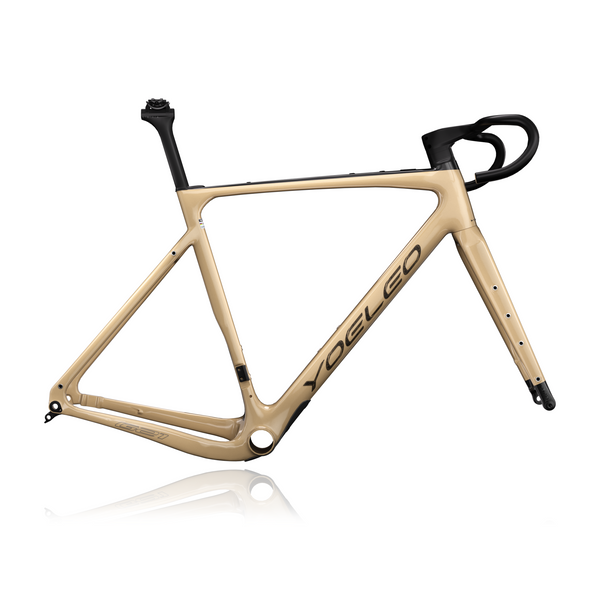 UCI Approved: Yes
Including Parts: G21 Frame, Fork, Handlebar, Seatpost
Frame:
Size: 45cm,49cm, 52cm, 54cm, 56cm, 58cm, 60cm
Material: High Modulus Toray 800 Carbon Fiber
Color:   Arctic Ice / Desert Brown / Custom Painting

BB: BB T-47 inboard bearing
(pick the right BB-47 depending on your crank spindle size)
E.g. if you are using GRX crank : T47 BB inboard bearing for (shimano) 24mm spindle size.

SRAM DUB / DUB wide crank : T47 BB inboard bearing for SRAM DUB 
SRAM GXP : T47 BB Inboard bearing for SRAM GXP
Headtube: Straight 1-1/2"
Rear Dropout: 12*142 Thru Axle
Rear Derailleur Hanger: Replaceable
Frame Weight: 
Arctic Ice
1150g
(49cm)
+/-50g
Desert
Brown
1170g
(49cm)
+/-50g
Handlebar: H21 carbon integrated handlebar
Handlebar Size:  400mm,420mm,440mm
Stem Size: 80mm/90mm/100mm/110mm
Handlebar Weight: 360+/-15g (420x90)
Fork & Seatpost:
Fork: 1 1/8" - 1 1/2", 12*100 Thru Axle
Fork Weight:
G21 Fork : 475+/-10(with holes)
G21 Fork: 465+/-10(without holes)
Seatpost Weight: 204+/-15g
Compatibility:
Chainring: 
Single (Max of 42t for normal crank spindle and 44t for wide crank spindle) 
Double (50-34t max with BB to Crank washer)  
Brake Fitment: Flat Mount Disc
Cable Routing: Internal
Bottle Mounts : 4
Mudguard Compatible: Yes
Cargo Rack Compatible: Yes
Max Tire Width: 700X53mm , 650BX2.1"
Accessories: 
Handlebar Spacers 3mm: 1PC, 5mm: 1PC, 10mm: 2PCS, Headset Bearing Cap 10mm:1PC
Front Axle: 1pc, Rear Axle: 1pc
Limited Rider Weight: 110KG                        
Warranty: 6 Years
A GAME-CHANGER IN THE MARKET
Riding into the future of gravel biking, Yoeleo unveils its newest masterpiece; the new and powerful G21. Packed with unique features and optimized for an unmatched riding experience, the G21 stands tall as a testament to Yoeleo's commitment to innovation, performance, and rider-centric design.
CRAFTED WITH PROMOLDCORE
A pinnacle of manufacturing prowess, ProMoldCore technology transcends traditional methods, crafting high-end carbon fiber cycling frames with intact precision. Embrace ideal stability as latex molds the frame's interior, setting the seal on a wrinkle-free with smooth finish inside out.
DUAL MOUNTING OPTION
The ProRoute System provides dual mounting solutions for faultless internal cable, supporting both complete internal cable routing (Y-ICR) and semi-internal cable routing (S-YICR). With its streamlined, detachable spacers, this improvement assures a smooth and easy installation.
MORE THAN VERSATILE
With the ability to accommodate tire sizes up to 53c, the G21 redefines versatility. You can effortlessly adapt to different terrains and conditions, amplifying G21's all-around performance and making it the only bike you'll ever need for any adventure.
OPTIMIZED GEOMETRY FOR UNMATCHED STABILITY
Yoeleo G21's geometry is optimized for gravel and packed with features that will ensure stability on the road; a longer wheelbase, slack headtube angle, and shorter stem promises exceptional stability and comfort on even the most uneven terrains. G21 allows you to be in full control of the roads you're traversing no matter the conditions.
ALL-TERRAIN CAPABILITY
Any frame can take on any terrain, but G21 doesn't take on various terrain – it conquers all of them. Its robust construction and wide tire clearance allow it to run on anything, from smoothest roads to the toughest trails. Any frame can take on any terrain, but nothing like G21 does.
H25 HANDLEBAR + ST1 STEM
Our standard handlebar for G21 is H21, it is integrated handlebar, we also offer the stem and bar option: ST1 Stem + H25 handlebar. If you want the ST1 stem+ H25 handlebar to replace the H25, please send us email after yo place the order.

Check More
6 YEARS OR LIFETIME WARRANTY
Durlable, Afforable, Quality Frameset We offer 6years quality warranty for the Frameset including the handlebars by H21.
Optional for lifetime warranty.
CRASH REPLACEMENT
We hope you don't need this but if you have a crash, we offer a 30% crash replacement discount on all wheels and framesets. Please contact us and we'll do our very best to help you and ride again ASAP.
DISCOVER MORE WILD ADVENTURES WITH YOELEO G21 BELOW
Check the video for more details